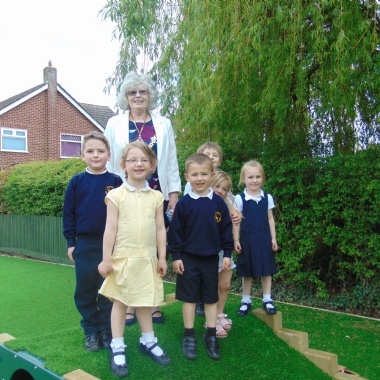 The Mayor of Hertford joined the Foundation Stage on May 4th, to officially open the new playground.
The Mayor of Hertford, Councillor Sue Dunkley, visited Bengeo School on Friday to officially open the Foundation Stage playground.
Much thought and planning has gone into the project, primarily designed to allow children to develop upper body strength and speaking and listening skills, crucial to early childhood development.
'It was wonderful to be able to welcome the Mayor to the official opening of our brand new outside playground. The children have been so excited and couldn't wait to try the new equipment out. The new playground is a real asset to the school. Children will be able to enjoy this for many years to come.' Mrs Starkiss – Head Teacher
'It's been a great pleasure to open the new playground. It is such a marvellous addition to the already great facilities that are provided to the children at Bengeo School.' - The Worshipful Mayor of Hertford
'I like our new playground because it is interesting and great fun. We are really lucky to have it' Rowan Morris- Reception class
'It's a wonderful addition and resource for the foundation stage. Our children love it and it's great to see the school invest in something which encourages active outdoor play.' – Reception parents